Toilets Aren't Trash  Cans!
Flush Only Human Waste and Toilet Paper
Many consumers use disposable wipes because they're convenient for cleaning and disinfecting. Even people who would not normally embrace disposable products because of concern for overburdened landfills are using wipes that are being marketed as "flushable." Coupled with other items that should not be flushed (i.e. anything that isn't human waste or toilet paper), disposable wipes are wreaking havoc on our sewer systems.
Unwanted Medicine Disposal
Medications that are flushed down toilets or poured down drains pollute waterways, including the San Francisco Bay. The presence of pharmaceutical compounds in treated wastewater is a growing environmental concern. Wastewater treatment plants were not designed to remove these types of chemicals, as well as those found in other household hazardous waste, which passes through the treatment process and is discharged straight into the Bay.
Find locations to safely dispose of medications. Click here, or click here!
Wipes Clog Pipes & should NEVER be Flushed
Unlike toilet paper, disposable wipes (even those labeled "flushable") do not quickly disintegrate in water. Consumer Reports tested several brands of wipes labeled "flushable" and found that while toilet paper disintegrated after about eight seconds, the wipes still hadn't broken down after 30 minutes.
These products stay largely intact as they travel through sewer pipes and can easily get caught on roots or other debris, increasing the risk of clogs and sewage overflows.
As disposable wipes grow in popularity, sewer agencies are being forced to commit additional resources to removing mounds of wipes clogging up public sewer lines, pumps, and treatment facilities.
Disposable wipes are an even greater threat to your home's sewer pipe, which is much smaller and more easily clogged.
In addition to potentially causing clogs and overflows, many of the cleaning and disinfecting wipes contain chemicals that are difficult for sewer treatment plants to remove, and they can thus pollute local waters.
If you use disposable cleaning/disinfecting wipes, moist towelettes, baby wipes, personal hygiene wipes or similar disposable or "flushable" products, put them in the trash. NEVER flush them down the toilet.
Only human waste and toilet paper should be flushed down your toilet.
Flush Green
Check out this terrific video from our friends in the United Kingdom!
Central San Wipes Video
Central San has developed a Wipes Clog Pipes video.
Inside Edition
What you should never flush down the toilet video by Inside Edition.
When it comes to disposing of FOG, it's easy! Pour it. Scrape it. Seal it. Trash it.
The City of Sacramento Department of Utilities has developed a video about how to dispose of Fats, Oils, and Grease generated in the kitchen.
California Association of Sanitation Agencies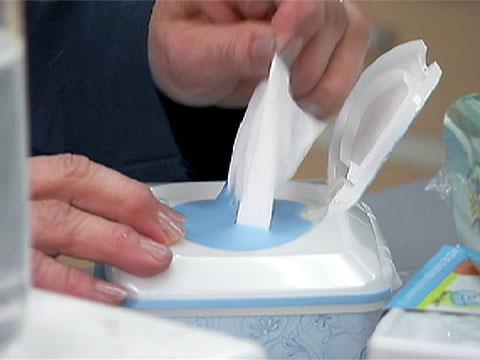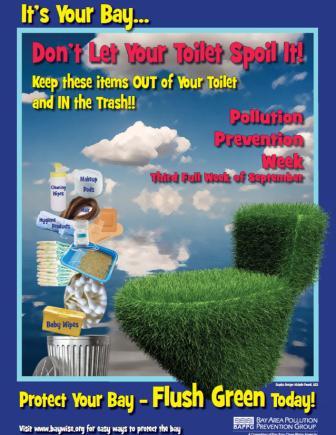 Flush Green Poster
Download and post a "Flush Green" poster to educate your family, roommates, home owners' association or neighbors.